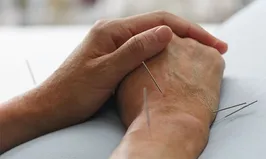 Here at Anderson Chiropractic, we are dedicated to provide a wide range of conservative care options to enable our patients to enjoy a happy, healthy, and pain-free lifestyle. This sometimes involves more than what a doctor of chiropractic can provide. Optimal treatment often involves more than one healthcare discipline. It is for that reason we offer acupuncture services at our office on 300 E. First St. in Oxnard.
Jewon Han, LAc is now with Anderson Chiropractic. He received a degree in Acupuncture and Asian Medicine from Samra University of Asian Medicine.
Acupuncture and Asian Medicine are used to treat a variety of conditions, such as:
--stress/tension
– depression/mood
– fatigue/energy
– pain conditions, including shoulder, back, knee, wrist, and sciatica
– headaches/migraines
– female concerns including menstrual irregularity and infertility
– gastrointestinal problems including indigestion, ulcers, constipation and irritable bowel syndrome
– allergies
– asthma
– general health and well-being
– high blood pressure
If you're interested in trying acupuncture for your condition, call our office today at 1.8054868311 for an appointment. Jewon Han, LAc. is a member of most insurance panels, including Blue Cross, Kaiser, Zenith, State Compensation Insurance Fund and many others. If you would like to check your coverage, we would be happy to do that for you. If you do not have insurance coverage for acupuncture treatment, we offer very affordable payment plans for your care.